This bulletin addresses issues with seat post sliding performance. A correctly functioning seat post should be easy to slide up and down with one hand. If there are positions where it gets stuck, please see the three sections below.
1. Check which bolt you have: Check if the anti-rotate bolt behind the seat post is a domed button-head type. We've found that this design of bolt can cause issues with sliding performance. Even if your seatpost is sliding fine, we'd like to send you the replacement.

Get a replacement: Contact us and we will send you a replacement that doesn't scratch the seatpost slot. Contact info below.
2. Deal with existing scratches: Check for scratching and burrs around the groove on the back of the seat post. You may notice that the seat post gets stuck as it slides into the frame in specific areas where the seat post is heavily marked or scratched.
---
Fix: Requires a sanding tool such as emery board, file, or sandpaper. If you would like us to send you one, please contact us, info below.
Remove the seat post from the bike. The hex key that comes with the bike will be needed to remove the anti rotate bolt.
Sand around and in the groove to remove sharp edges and burrs. Avoid breathing the dust. For the best sliding performance, you must take the rough spots all the way down. If your seatpost is really chewed up and you would prefer a fresh start, contact us for a new post!
Immediately clean up any dust with a wet paper towel and wash your hands after completing the process.
Repeat sanding as necessary.
3. Chatter: Seat Post chatters when sliding down and needs precise manual guidance in order to slide; especially when the seat is extended to a higher number, like 9 or 10.
Fix: Lubricate the seat post with a silicone-based grease. If you would like us to send you some, please contact us, info below. How to apply the grease

Raise the seat post all the way up and clamp in place
Apply the lubricant onto the post near the top, middle, and bottom to form 3 rings, about the size of a rubber bands
Spread the lubricant over the whole seat post with a small piece of paper towel, napkin or rag (approx the size of a credit card)
Slide the seat all the way up and down five times
Using a fresh paper towel, wipe off the excess lubricant
If these or other performance issues are happening to your Fender Blender Pro, please contact us for support: 1-(888) 354-2453 techsupport@rockthebike.com
Read More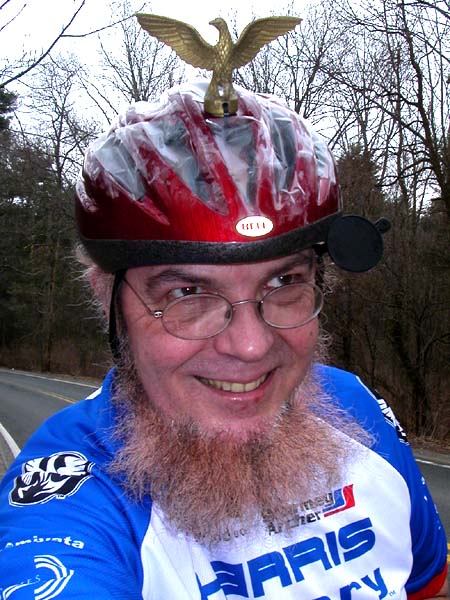 I heard the sad news that Sheldon Brown, one of the Internet's enthusiastic purveyors of cycling knowledge, has died. If you've ever tried to figure out the difference between 7-speed and 8-speed chain, V-brakes and cantilevers, chances are you ended up in encyclopedic pages of www.sheldonbrown.com . And if you were a kid growing up in Newton, Mass, Brown's bike shop, Harris Cyclery, is where you might have bought your first mountain bike. It's certainly where my dad took me. As a teenager, I worked at a competing shop in neighboring Belmont; I don't have strong memories of Brown.
Sheldon Brown's internet sensibilities were ahead of his time. By placing such importance on quality information, he gradually built a loyal following of mechanics both professional and homespun. His site is also surprisingly easy to use.
To give you a sense of his character, here's what Sheldon Brown, here's what he had to say about the quirky plastic eagle zip-tied to his helmet in the above picture (shown on every page of this site):
"

My "Panache" is a plastic eagle which probably began life at the top of a small flag pole. It is a road find. It is held on to my old Bell Image by a plastic zip tie.

This is a marvelous conversation piece, and has broken the ice on a great many contacts with strangers. Someone on the 'net once said he thought it was cool, but that he could never do something like that, 'cause he still cared what people thought of him. Well, I too care what people think of me! I hope people will think that I am:

Independent minded.
Original.
A person with a sense of humor.
Somebody who doesn't take himself too seriously.
I believe that Igor conveys these attitudes as well as any clothing accessory could.
Read More